Campaigners unveil child poverty map of UK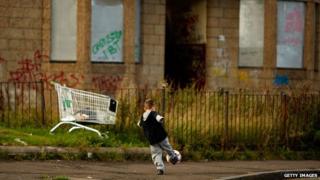 Campaigners have published a child poverty map of the UK, which they said showed "shocking levels of hardship" across the country.
The figures are broken down by parliamentary constituency, local authority and ward and show a wide disparity in poverty rates.
London scores badly, with 10 of the top 20 constituencies with the highest child poverty rates.
Glasgow was the worst-affected area in Scotland.
However there is variation within regions. For example, in London, Bethnal Green and Bow has a child poverty rate of 49% compared to 15% in Richmond upon Thames.
In Manchester, the rate is 39%, while Birmingham was at 37%, Nottingham 36% and Middlesbrough 35%.
Wokingham and the Shetland Islands are the local authorities with the lowest rates, at 10%.
At a more local level, the map reveals more significant concentrations of child poverty, with the majority of children poor in 16 local wards.
The Campaign to End Child Poverty said 220,000 youngsters in Scotland - or one in five of the child population - were living in poverty.
The map indicated that one in three youngsters in Glasgow were living in hardship, putting the city just outside the 20 worst local authorities in the UK.
In another five Scottish council areas, the figures suggested more than a quarter of all children were growing up in families that were struggling to get by.
They were identified as Clackmannanshire, Dundee, East Ayrshire, Inverclyde and North Ayrshire.
The statistics also showed high poverty levels in rural Scottish communities, with nearly one in five children in the Western Isles and Argyll and Bute affected.
The estimates were compiled for the Campaign to End Child Poverty by the Centre for Research in Social Policy (CRSP) at Loughborough University.
The campaign group said it was the first time local child poverty had been mapped by taking housing costs into account.
Benefit policies
End Child Poverty, which includes children's charities, child welfare organisations, social justice groups, faith groups and trade unions, said politicians at Westminster and Holyrood needed to act to tackle the root causes of poverty,
It called on the UK government to rethink tax and benefit policies, claiming these could leave as many as 100,000 more children in poverty by 2020.
End Child Poverty spokesman Neil Mathers said: "These figures reveal just how widely and deeply child poverty reaches into our communities.
"It's important we look behind these figures at what is driving this level of poverty in our country.
"Politicians of all parties, at Westminster and Holyrood, need to act to tackle the root causes of poverty, including low pay and soaring housing and childcare costs.
"There is nothing inevitable about this poverty. We must build on the good work that is happening in Scotland to support families."
Responding to the figures, A UK government spokesman said: "The figures do not provide an accurate picture of child poverty. We're doing more than ever to help children, the attainment gap for deprived pupils has fallen and we've just seen the largest fall in unemployment since 1988.
"We remain committed to our goal of ending child poverty by 2020. We've already made great strides under this government with 300,000 fewer children in relative poverty and 290,000 fewer children growing up in workless families."
A Scottish government spokeswoman said: "It is totally unacceptable that there are children living in poverty in a country as wealthy as Scotland.
"We know that the UK government's benefit reforms are unfairly impacting on some of the most vulnerable members of our society and that is why we are investing £81m in the next financial year to help mitigate the effects of these changes.
"In the Scottish government's submission to the Smith Commission, we set out the need for Scotland to have full responsibility over welfare and employment powers.
"Only full powers over welfare, employment and social policy will help us to tackle child poverty and allow Scotland to become a fairer country."
Child poverty percentages in Scottish local authorities
Local Authority
% of child poverty after housing costs
Local Authority
% of child poverty after housing costs
Aberdeen City
18%
Highland
19%
Aberdeenshire
14%
Inverclyde
26%
Angus
20%
Midlothian
21%
Argyll and Bute
19%
Moray
18%
Clackmannanshire
26%
North Ayrshire
27%
Dumfries and Galloway
23%
North Lanarkshire
25%
Dundee City
28%
Orkney
14%
East Ayrshire
26%
Perth and Kinross
17%
East Dunbartonshire
13%
Renfrewshire
21%
East Lothian
19%
Scottish Borders
18%
East Renfrewshire
15%
Shetland Islands
10%
Edinburgh
21%
South Ayrshire
24%
Eilean Siar
19%
South Lanarkshire
20%
Falkirk
21%
Stirling
17%
Fife
24%
West Dunbartonshire
25%
Glasgow
33%
West Lothian
21%