Celtic Connections to honour pioneer Martyn Bennett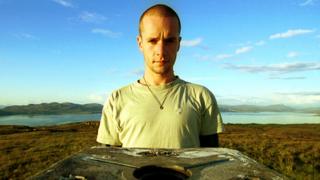 Next year's Celtic Connections will honour the work of pioneering musician Martyn Bennett on its opening night, organisers have confirmed.
The annual winter music festival in Glasgow will dedicate a show to the artist, who died in 2005 at the age of 33 following a long battle with cancer.
Other festival highlights will include performances by Fairport Convention, Shooglenifty, Tweedy and Eddi Reader.
Celtic Connections 2015 will run from 15 January to 1 February.
More than 2,000 artists from around the world will take part in the event, including some of the best-known musicians in traditional and roots music.
International artists include Grammy award-winning singer Angelique Kidjo, who will be performing alongside the Royal Scottish National Orchestra, and Nashville-based group Lambchop.
The opening night will feature a full orchestration of Martyn Bennett's last album, Grit, by cross-genre classical violinist Greg Lawson.
The album has been credited with starting the musical evolution of Celtic fusion.
Martyn mixed techno, dance and traditional music as a solo artist and with his own band, Cuillin, before his tragic death in 2005.
The festival will also pay homage to other "late and great" musicians who have left their mark on the current musical landscape.
It will include a tribute night to singer, songwriter, playwright, actor and poet Ewan MacColl (1915-1989), who established the country's first folk club.
There will also be a celebration of the life and music of Rory Gallagher, the Irish-born blues-rock guitarist who died in 1995.
'Music revolutionaries'
Announcing next year's programme, Celtic Connections artistic director Donald Shaw said: "In a year that celebrates the 100th anniversary of the great folk song collector Alan Lomax, Celtic Connections will celebrate great traditional music revolutionaries such as Martyn Bennett and Ewan MacColl.
"In recent years, the festival has grown into a celebration of musical genres from all corners of the globe and this will be just as prominent in 2015."
Ian Smith, from Creative Scotland, said: "Celtic Connections is now firmly established as the foremost festival celebrating the Celtic Diaspora on a world stage.
"The programme for 2015 again exemplifies that we connect our music, not only with other Celtic nations and cultures, but welcome the world to Glasgow to enjoy some of the greatest folk, acoustic and traditional music that Scotland produces and celebrates."