DVDs seized in Barras market raid in Glasgow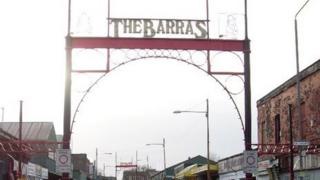 Thousands of counterfeit DVDs have been seized during a raid on the Barras market in Glasgow.
Police and the Federation Against Copyright Theft (Fact) recovered music and film DVDs said to be worth more than £163,000.
Two men, aged 19 and 40, and a woman, 29, were arrested in connection with the seizure.
Separately, further counterfeit DVDs worth an estimated £276,000 were also recovered.
Insp Matthew Webb, of Police Scotland, said: "This is a significant seizure and will have a considerable impact on the illegal marketing of counterfeit goods.
"The close working partnership we have with officers from Fact is proving invaluable and we will continue to share information and intelligence in our collective efforts to stamp out this type of criminal activity in Scotland."
Kieran Sharp, director general of Fact, said: "This seizure demonstrates the success of partnership working.
"Criminal activity on this scale threatens the livelihoods of the two million people working in the UK's creative industries and harms legitimate businesses."