Kelvingrove Museum hosts major Alasdair Gray exhibition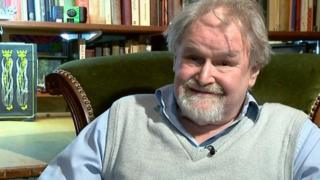 A four-month exhibition celebrating the art of Alasdair Gray opens at Glasgow's Kelvingrove Museum at the weekend.
The major life's work retrospective is being staged in celebration of the artist's 80th birthday in December.
Titled "From the Personal to the Universal", the exhibition will feature around 100 works, from Gray's time at Glasgow School of Art to the present.
The retrospective will run from 11 October until 22 February on the Kelvingrove's lower ground floor.
The exhibition will feature the series of Glasgow landscapes Gray was commissioned to make in the 1970s in his role as City Recorder.
Portraits of other writers and artists and family and friends of Gray will also be on display.
Many of Gray's most famous murals will be represented, as well as maps to take visitors to nearby murals after the exhibition.
The works on show will also include several loans from private and other collections.