Public questioned where Stephen McGinlay fatally attacked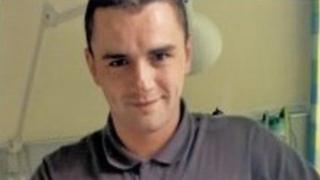 Police investigating the murder of a man in Glasgow have questioned members of the public in the street where he was fatally attacked one week ago.
Stephen McGinlay, 26, from the city's Possilpark area, was attacked, along with a friend, by three men on St George's Road, at 17:50 on Thursday.
Mr McGinlay was taken to Glasgow Royal Infirmary where he died on Sunday.
Officers stopped and interviewed people at the scene between 17:15 and 18:15 in the hope of generating new leads.
Police said the attack took place as Mr McGinlay and his friend were walking near Woodside Library on St George's Road.
The three suspects, who were in their 20s and wearing dark clothing, got out from a dark-coloured car parked nearby. It is believed they used the car to leave the scene.