Crimewatch appeal North Lanarkshire sex attacker jailed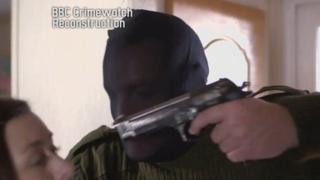 A 47-year-old man has been jailed for 12 years after being convicted of a robbing and sexually assaulting a woman at her caravan in North Lanarkshire.
Thomas Feeney had a fake gun and wore a mask when he entered the 33-year-old's home, near Shotts, on 5 September 2013.
Feeney, from Airdrie, tied her up before carrying out the sex attack.
The case featured on BBC's Crimewatch but Feeney was caught after his DNA was found on discarded items recovered at a quarry and on the victim's clothing.
'Preposterous defence'
Jailing him at the High Court in Glasgow, temporary judge Norman Ritchie QC told Feeney: "This was a planned crime. You appear to have had some inside information about money within the caravan.
"You went to the caravan equipped with cable ties, duct tape, an imitation gun and masked and you chose a time when this woman would be on her own.
"You sexually abused her and your defence was preposterous."
Judge Ritchie also placed Feeney on the sex offenders' register.
During Feeney's trial, the court heard that the woman had been staying with her fiancée in the remote static caravan while their dream home was being built.
After entering the caravan, Feeney forced the woman to hand over £2,000 in savings, which was to be used to pay builders.
He also took the keys to her BMW 3 series car.
Before he left Feeney picked up a pink thong and a purple bra from the victim's laundry bag.
In evidence, the woman, who cannot be named for legal reasons, said she was pushed into the bedroom and her wrists, eyes and mouth were bound with duct tape.
She added: "He said he was taking me with him and I was getting used as a sex slave.
"He opened the bedroom door and pushed me onto the bed face first. He let go of me and shut the curtains. I thought he was going to rape me."
Police database
She said the man then pulled up her top and pulled down her trousers before sexually assaulting her.
The attack ended with him driving off in her car which was later found abandoned.
Although Feeney left behind his DNA, he was not on the police database and initially the police had little to go on.
The incident featured on BBC's Crimewatch programme but the breakthrough in the case came when a dog walker came across items thrown away at a disused quarry.
Feeney's mobile phone was found alongside the woman's thong.
His DNA matched that found on the woman's clothing and on a piece of duct tape and two cable ties found in the caravan.
In evidence Feeney denied ever having been at the caravan and referring to the sex attack said: "I would never do anything like that."
He also claimed that he liked to dress up as a woman.
The jury, however, did not believe him and unanimously convicted Feeney of robbing and sexually assaulting the woman, with intent to rape.
He was also convicted of using an imitation gun with intent to cause the woman to believe unlawful violence would be used against her.