Police arrest 17 Zagreb fans at Celtic's European game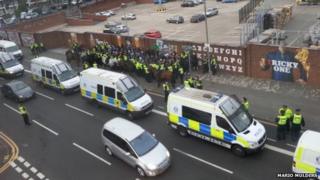 Police at Celtic's Europa League game arrested 17 people for alcohol and disorder offences and possession of CS spray, flares and smoke bombs.
A spokesman for the force said four people were held inside the stadium. The other arrests were made outside and in the city centre.
All 17 Dinamo Zagreb fans were due to appear at Glasgow Sheriff Court.
Celtic won the Europa League match against the Croatian side on Thursday night 1-0.
A spokesman for Celtic FC said: "A significant operation was carried out last night together with Police Scotland and Celtic safety stewards to prevent Dinamo Zagreb fans without official tickets entering the stadium.
"We thank our supporters for their assistance in this operation, something which resulted in greatly enhanced spectator safety at the match."