Glasgow food bank backers stage public event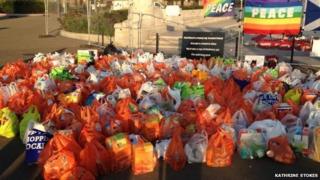 A makeshift food bank has been set up in George Square in Glasgow.
The charity Glasgow's Needy has said it expects thousands of bags of groceries to be donated.
An informal event last week was inspired by a speech given by one of the charity's founders, Andrew Carnegie.
He and co-founder Darren Carnegie intend to thank those making donations by staging a concert in the square, with singers and dancers.