Eight years for 'predatory' van rapist Craig Hyslop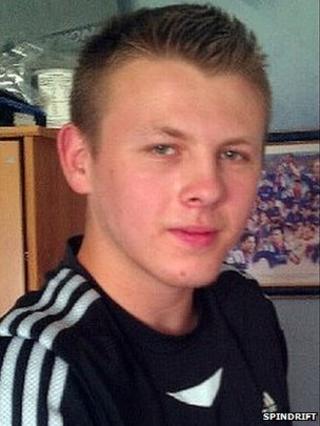 A man who drove a woman around country roads in a van before raping her twice has been jailed for eight years.
Craig Hyslop, 22, attacked his victim in Renfrewshire on 2 January.
The High Court in Glasgow heard that the terrified woman tried to flee on two occasions but was chased by Hyslop and forced back into the van.
Judge Lady Wolffe described his conduct as "predatory" and ordered Hyslop to be monitored for two-and-a-half years after his release from prison.
The judge also placed him on the sex offenders register.
Lady Wolffe told Hyslop: "These are very serious matters, indeed, you behaved in a predatory and calculated manner.
"You subjected the complainer to a long and terrifying ordeal. She was taken to remote places by you and for a number of hours you subjected her to threats as you drove her about.
"When she managed to escape you chased her and secured her return and proceeded to rape her."
'Terrifying ordeal'
The judge continued: "The complainer was visibly quaking and distressed in the witness box. This was an utterly terrifying ordeal. She did not know whether she was going to live or die."
The court heard that on two occasions the woman tried to flee - once when Hyslop's van was parked in Old Greenock Road and also when it was stopped at Bishopton Cemetery.
On both occasions he caught her and forced her back into the van.
The court was also told that Hyslop had been assessed as being at a high risk of re-offending.
The 22-year-old, who is a prisoner in Barlinnie, continues to deny raping the woman and has expressed no remorse for his actions.
Lady Wolffe added: "This vulnerable young woman feared for her life. Such conduct is not acceptable in modern society."