Referendum disorder: 20 arrests now made over George Square trouble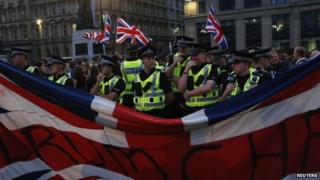 Police have now arrested 20 people over trouble in Glasgow on the day the referendum result was announced.
There were scenes of disorder in and around George Square on 19 September as rival supporters of the union and independence gathered in the city.
The arrests were for various offences including disorder, breach of the peace and vandalism, Police Scotland said.
Earlier this week, six people appeared in court charged with various offences. All but two were remanded.
Supporters of independence had been gathering in George Square in the final days of the campaign and on the day of the result.
Trouble flared when a number of people draped in union flags arrived in the area. They sang Rule Britannia and a flare was let off.
Police - some mounted on horses - moved in to separate the rival groups.