Dreamliner makes emergency landing at Glasgow Airport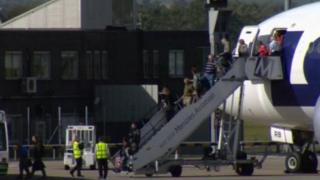 A Dreamliner plane with 260 people on board has made an emergency landing at Glasgow Airport after an alert from the aircraft's fire protection system.
The flight, operated by Polish airline Lot, was en route from the US to Poland when it declared an emergency.
The plane touched down at Glasgow Airport at 11:35, where it was met by emergency crews as a precaution.
Passengers were taken off and the plane was undergoing checks. Lot was making other arrangements for passengers.
In a statement the Polish airline said: "One of our aircraft operating from Chicago to Warsaw landed in Glasgow.
Safety procedure
"Crew had received an information generated by aircraft fire protection system located in the hatch.
"Due to the safety procedure pilots decided to land at the nearest airport - in Glasgow."
The statement continued: "Airport flight control granted permission and the aircraft landed safely. Passengers were informed about the situation.
"After taxiing, the plane was checked by the airport fire service. They did not identify any smoke of fire.
"All passengers have been transported to the terminal, where they are under constant care of our crew. The aircraft is under technical review. Lot is preparing alternative transportation for passengers to Warsaw."
Glasgow Airport said it was operating as normal with no disruption to other flights.