Businessman Jim McColl's vision for non-academic pupils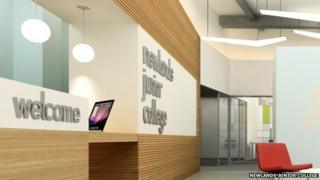 In an unremarkable building in the south side of Glasgow, what could become a radical concept in education is getting ready to open its doors.
A new college for youngsters who are failing to achieve their potential at school is almost ready to welcome its first students.
It is the brainchild of entrepreneur Jim McColl who feels his apprenticeship as a teenager was the making of him.
His scheme has support from the city council and the Scottish government.
The school - called Newlands Junior College - is a radical concept.
It will open on 20 October with 30 students, aged 14 to 16, from S3 and S4. Another 30 will start in 2015.
Students who complete the two-year course will be guaranteed an apprenticeship or place at college.
Fresh start
It, perhaps, represents the greatest challenge so far to the idea that local authorities should be solely responsible for the provision of free school education in Scotland.
Councils run practically every school in Scotland - obviously excluding the traditional independent fee-paying sector - and there are no provisions for schools to opt out of local authority control.
The junior college is a fresh start. It is being run by a non-profit company which is in the process of becoming registered as a charity.
Mr McColl insists his plan is in no way the equivalent of an English "city academy" - schools which have opted out of local authority control and which sometimes have distinctive characteristics.
Instead he stresses that the junior college will complement state schools and work in tandem with them.
He hopes the junior college - which he has been working on for several years - will provide a good vocational education to youngsters who are failing to achieve their potential in academic subjects.
Mr McColl said: "My vision is to create a junior college for young teenagers that will give them support and opportunity to move into a successful and rewarding future.
'Alternative path'
"We've been working on it for the last two years. While the current academic system in secondary schools works for the majority of young people, it doesn't work for a significant minority. I believe the Newlands Junior College model can supply that alternative path.
"These are young people who are as talented as any other people in schools. They have latent talent which hasn't been fully brought out by the academic path."
Principal Iain White, who was formerly in charge of Govan High School, said: "We live in a changing world, and it's only reasonable that the education system changes to meet the needs of the 21st century.
"One of the bedrocks of the new Curriculum for Excellence is the whole notion of personalisation and choice to meet the needs and aspirations of the young person. Newlands Junior College is perfect to meet these two aims.
"It will provide exciting opportunities for young people in the south of Glasgow that a few years ago could only be dreamt about.
"Its ethos is in line with the four key strategies of the Curriculum for Excellence, namely successful learning, confident individuals, responsible citizens and effective contributors."
Although the students will study for National 4s and 5s - just like students at conventional secondary schools - there will be a heavy emphasis on work skills and personal development.
Potential risks
Once they leave school, they will be guaranteed an apprenticeship with a major company such as Weir Group, ScottishPower and Arnold Clark if they want one.
It will be up to schools and parents to nominate students for the junior college - they will then go through a selection process.
Some teachers are enthusiastic about the concept. Others are more sceptical and see potential risks: for instance, taking a child out of a school where they are settled and have friends is always something of a risk.
There has been a growing emphasis on vocational education in secondary schools.
A major report earlier this year from a commission chaired by the businessman Sir Ian Wood made several recommendations to help bring about a "parity of esteem" between academic and vocational education and improve the links between schools and businesses.
The majority of youngsters now remain at school until they are 18 and S5 and S6 are no longer the preserve of the most academically able students.
The Scottish government has a promise of a place in education or training for all young people who do not have jobs.
The largest teachers union the EIS says it is not opposed to the creation of the junior college but is not a cheerleader for it either.
A spokesman said that while the motivation behind it was sound it seemed to duplicate some of the work of existing partnerships between schools and colleges and some of the Wood Commission's recommendations.
The union said that they did not oppose philanthropists like Mr McColl supporting education but believed proper funding of the state system was the best way to ensure consistent high quality provision.
The Scottish government and Glasgow City Council are expected to help provide funding but nothing has yet been finalised.
A Scottish government spokesperson said: "Initiatives such as this can play a key role in strengthening the delivery of vocational training in Scotland and equip young people preparing for employment with the skills they need to meet the demands of the workplace and support our economy.
"As previously indicated, we have been in discussion with both Newlands Junior College and Glasgow City Council about how we can best support the initiative going forward, and that process continues."
The college opens on 20 October.