Boy badly burned in power line incident in Ardrossan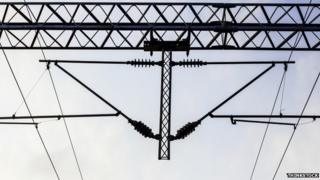 A teenaged boy is being treated for serious burns following an incident with overhead power lines at a rail track in North Ayrshire.
It is thought the boy may have thrown something at the cable as he crossed the line on Dalry Road, Ardrossan.
Witnesses reported hearing an "explosion" at about 19:30 on Tuesday.
The boy is in a "very serious but stable" condition at Glasgow Royal Infirmary. He was taken there from Crosshouse Hospital in Kilmarnock.
Public relations consultant Murray Roxburgh said he was sitting at home when he heard a loud bang.
"I came out of my house because I thought it may have been a lorry crash," he said
"I walked up the road and could see a boy lying on the road. He was semi-conscious."
Emergency services
Mr Roxburgh said a fire engine arrived first on the scene, followed by an ambulance, adding: "I just hope he's all right.
"Cars had stopped and people were standing around, not sure what to do.
"I just let the experienced professionals take over when they arrived."
A spokeswoman for the Scottish Ambulance Service said an emergency call was received at 19.24.
She added: "The report was that a male was lying in the street. Our crew was on the scene and the boy was taken to Crosshouse Hospital in Kilmarnock."
A spokesman for Network Rail said: "We have reports of a youth dropping something on to overhead lines at Ardrossan. He was taken to hospital."