Jim McColl launches new college for non-academic pupils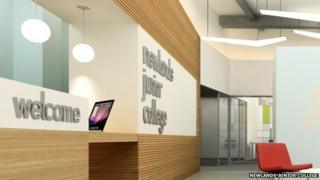 A leading Scottish businessman has launched a vocational school aimed at giving career opportunities to young people who are not academic.
Newlands Junior College in Glasgow is the brainchild of Clyde Blowers Capital chairman, Jim McColl.
It will open on 20 October with 30 students, aged 14 to 16, from S3 and S4. Another 30 will start in 2015.
Students who complete the the two-year course will be guaranteed an apprenticeship or place at college.
The new college is based in a refurbished office block on the former site of Mr McColl's Clyde Union Pumps factory in Cathcart.
Mr McColl is one of Scotland's wealthiest businessman, with a personal fortune estimated to be close to £1bn.
Earlier this month, his Clyde Blowers firm completed the purchase of the financially-stricken Ferguson Shipbuilder in Port Glasgow.
Mr McColl then set about re-hiring staff made redundant by administrators and announcing plans for expansion.