Thousands of food bags donated to pop-up foodbank in Glasgow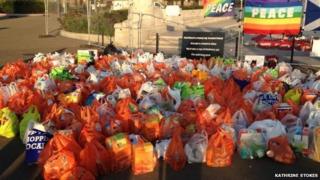 About 2,000 bags of food have been donated to an impromptu foodbank in central Glasgow that started amid a gathering of peace campaigners.
Andrew Carnegie was in George Square delivering a speech on unity when members of the public began dropping off bags of groceries when they heard about his foodbank.
Trouble flared in the square on Friday following the referendum result.
Mr Carnegie said the food bags filled eight vans and 11 cars.
He had been delivering a message of peace and reconciliation there on Saturday and as he began to talk about poverty, passers-by started to bring the bags.
The 45-year-old, who runs the Glasgow's Needy project with his son Darren, 25, has been collecting and sharing food across the city for 12 years.
'It's been overwhelming'
He said he was "overwhelmed" by people's generosity as donations piled up throughout Saturday and Sunday.
"I would say we have about 2,000 bags here and we left George Square with eight vans and 11 cars filled with food. It's all quality food from top supermarkets," he said.
"Tomorrow, after I wake up and walk my dog, I will start taking action and separating the food. If necessary, I will provide food to other foodbanks."
Mr Carnegie said his project works by visiting people in need across the city. He believes the weekend's contributions will keep the foodbank stocked for weeks.
"It's been overwhelming, I've been doing this most of my life and it's madness what happened here," he said.
"We've had people coming here from Perth, Aberdeen and across Scotland who had heard about this. They came here to drop off food and that's just overwhelming.
"Something great happened here and I'm overjoyed."