Scottish referendum: More arrests pledged over George Square disorder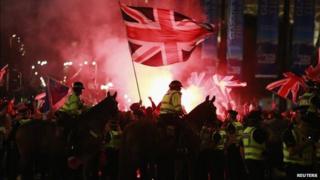 Police investigating trouble between rival Unionists and independence supporters in Glasgow city centre have said there will be further arrests.
Eleven arrests have been made after more than 700 people gathered in George Square on Friday.
Disorder began when the Union supporters fired a flare and charged.
Police said they were working to identify and arrest "anyone involved in the ugly scenes witnessed across the world on television and social media".
Officers, some on horses, moved in to separate a large number of people waving union jacks from a group of "Yes" supporters in George Square on Friday evening.
The square had previously hosted a pro-independence party ahead of Thursday's referendum.
Some of the pro-Union side were carrying banners featuring Loyalist imagery.
Police Scotland has now set up an incident room staffed by officers dedicated to identifying and arresting anyone involved in the trouble.
Ch Supt Andy Bates said: "We have already secured valuable CCTV and other evidence which I am confident will lead to further arrests in the coming days.
"Don't think that because you were not arrested by last night that you will not be caught.
"If you were involved in any criminality in the square we will identify you and you will be arrested."
He added: "I would ask that anyone who has any information that could assist us with our enquiries to contact officers via the non emergency number 101."
On Friday night there were reports on social media of a "Yes" supporter being stabbed in George Square, but police said they had no record of any incident.
Reports that the disturbance had led to a fire at the Glasgow Herald offices were also inaccurate.
On the Sunday Herald's Twitter account, the newspaper said: "There WAS a fire outside our building but no evidence linking it to unionist thugs elsewhere in city."
Another Twitter user said the fire involved the electricity generator at the Flying Duck club where he works.