Jamie Cameron admits killing William McLachlan in Largs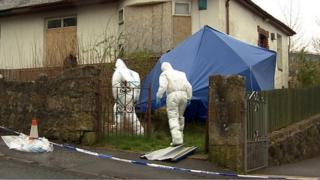 A 20-year-old man is facing a lengthy jail term after he admitted killing another man with a Samurai sword.
Jamie Cameron, 20, attacked William McLachlan while he was high on drink and drugs following a dispute.
The High Court in Glasgow heard that the 57-year-old bled to death in the front garden of his home in Largs, North Ayrshire, on 12 April this year.
Cameron pleaded guilty to culpable homicide. Sentence was deferred and he was remanded in custody.
The court heard that Mr McLachlan lived alone and had previously been a member of Largs Community Council and formerly worked for IBM.
Local harassment
He latterly suffered from a number of health problems including a tumour in his kidney and an enlarged heart.
Prosecutor Ashley Edwards told how Mr McLachlan had recently been plagued with problems at his home.
This involved incidents of vandalism and harassment by local youths which involved his windows being broken and property set alight.
The court heard there was nothing to suggest Cameron had been involved.
On 11 April, the night before the killing, Cameron spent the night with friends Jordan Skeoch and Ross Combe taking drink and drugs.
About 06:30 the next morning, Combe asked his mum to pick him up in George Street, Largs. When she later arrived she found her son, Cameron and Skeoch behind a garden wall before driving them to her house.
The court was told that later that morning word began to spread a body had been discovered in Largs.
Mr McLachlan had been found by two council workers around 07:00 lying in a pool of blood in his garden.
Sword 'poke'
Jordan Skeoch later went to the police and told how they had gone to Mr McLachlan's house "to see if they could see him".
One of them shouted on Mr McLachlan before the man was said to have yelled back: "You lot have wakened me up. Wait there."
Skeoch claimed Mr McLachlan came out with a Samurai sword and tried to "poke" it into Cameron's side.
He said Cameron then struck Mr McLachlan with a bottle before a struggle broke out.
He went on to tell officers: "He got the sword off him and then Jamie done whatever with the sword and then he put it somewhere."
The court heard Mr McLachlan bled to death due to two "significant" wounds to his left leg - with his femoral artery being struck.
Cameron faced a murder allegation before prosecutors accepted his plea to the reduced charge of culpable homicide.
It emerged he already had three previous convictions - all for violence with one involving the use of a knife.
Skeoch, 20, had been accused of assaulting Mr McLachlan by kicking him on the head, but his not guilty plea was accepted.
Correction 20 September 2014: This report has been amended to clarify that Ross Combe asked his mother to pick him up from George Street and not from the road where the victim lived.