One in 10 heart attack victims 'does not need a bypass or stent'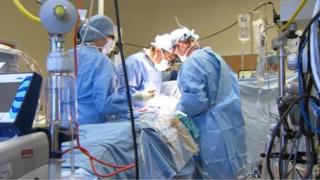 One in 10 people who have a heart bypass or a stent fitted after a heart attack do not need it, research carried out in Glasgow shows.
Current methods of measuring blood flow are not totally accurate and can be interpreted differently.
Researchers using a new measurement found stents and surgery could be avoided in more than 10% of cases.
The trial involved six hospitals in Europe, including the Golden Jubilee National Hospital in Glasgow.
It was carried out by the University of Glasgow and funded by the British Heart Foundation.
The study found potential benefits of routinely using a wire guided procedure that can accurately measure blood pressure through a narrowed heart artery to see what treatment a patient should receive.
Prof Colin Berry, who led the Fractional Flow Reserve (FFR) research at the Jubilee, said medical assessments could now be far less subjective.
He said: "The FFR result potentially provides more objective information than subjective visual assessment of heart artery narrowings by the doctor.
"Potentially, FFR safely reduces the number of individuals requiring stents or surgery and importantly leads to an optimised, safer stent procedure when it is performed."