NHS Greater Glasgow and Clyde sends obese to Weight Watchers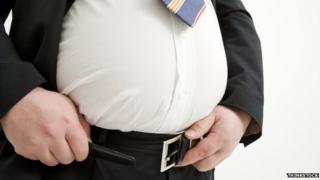 Scotland's largest health board has announced that people who are severely obese will be referred to a commercial weight-loss company.
The NHS will pay Weight Watchers' membership costs as part of a two-year pilot scheme.
Some working in weight-loss management within the NHS have criticised the move as an example of privatisation.
NHS Greater Glasgow and Clyde (NHSGGC) said the Weight Watchers model was "one which works".
A statement from the health board said: "Following a full tendering process we have awarded a contract to Weight Watchers to provide community-based weight management services as part of a two-year pilot project.
"People identify with Weight Watchers and evidence shows that their model is one which works. We will carry out a full evaluation of this work at the end of the pilot in two years."
The largest study so far of a commercial weight-loss programme found that one third of almost 30,000 people who were referred to Weight Watchers lost 5% or more of their bodyweight.
Weight loss of 5% or above is associated with health benefits.
However, Glasgow already has its own NHS weight-loss programme which has published successful results.
A third of those attending the NHS programme lost at least two stone (12.7kg) and kept it off for a year.
NHSGGC said the Weight Watchers programme was in addition to other "hospital-based" weight-management services.
The exact value of the contract with Weight Watchers is commercially sensitive but NHGGC said it was less than £150,000 a year.
Weight Watchers said that, in addition to NHSGGC, it was also currently working with NHS Grampian and NHS Tayside.
'Hospital-based service'
Zoe Griffiths, head of programme and public health for Weight Watchers UK, said: "Weight Watchers has been supporting local health bodies and providing successful weight management on referral services since 2005, and has worked with over 100 public health and NHS organisations across the UK.
"With the Scottish Health Survey reporting a significant increase in the proportion of adults who are obese (from 17.2% in 1995 to 26.1% in 2012), Weight Watchers recognises the importance of delivering services to help people to manage their weight and are committed to supporting and motivating people to change their lifestyles for good."
A Scottish government spokesman said: "NHS Scotland does not promote competition and makes very limited use of the private sector to provide targeted services.
"The most recent figures show that NHS Greater Glasgow and Clyde spending in the private sector for services has fallen in recent years and stands 0.8% of their frontline budget, and is projected to fall further.
"NHS Greater Glasgow and Clyde are working with Weight Watchers on a community-based pilot project, which will be in addition to their existing hospital-based weight management service, this is part of their efforts to support people to achieve and maintain a healthy weight."