Chhokar murder: Hearing set over Crown bid for new trial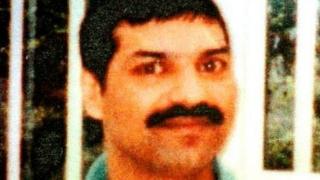 A date has been set for a hearing in which the Crown will apply for a fresh trial of three men over the murder of an Asian man in North Lanarkshire.
David Montgomery, 37, Ronnie Coulter, 46, and Andrew Coulter, 33, were all cleared of murdering Surjit Singh Chhokar, 32, in Overtown, in 1998.
Prosecutors want to use changes in the law of double jeopardy which opens the way for a possible re-trial.
Lord Carloway will begin hearing the case for a re-trial on 10 November.
Father-of-two Mr Chhokar was stabbed in the heart outside the house he shared with his girlfriend Liz Bryce.
Car mechanic Ronnie Coulter, his nephew Andrew and their friend Mr Montgomery were charged with the murder.
Two trials
In 1999, Ronnie Coulter was tried alone and acquitted after he blamed Mr Montgomery and his nephew.
He was found guilty of a reduced charge of assault but was not jailed as he had spent time on remand.
A separate trial in 2000 saw Andrew Coulter and Mr Montgomery walk free after they blamed Ronnie Coulter for the murder.
Two official inquiries were ordered into the wake of the original proceedings.
Following the publication of the reports in 2001, the then Lord Advocate Colin Boyd QC said the Chhokar family had been failed by the police and prosecution services.
In 2012, detectives from the former Strathclyde Police force reopened the investigation into the death of Mr Chhokar more than a decade after the killing which led to accusations of "institutional racism".