Swimming hero Ross Murdoch traces boy who wrote him 'amazing' fan letter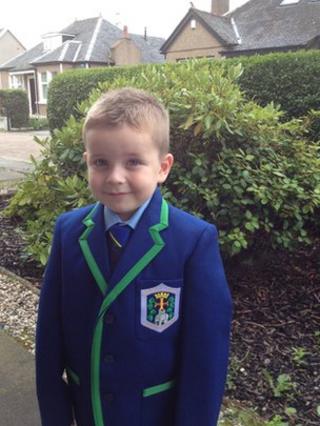 A five-year-old boy who wrote an "amazing" fan letter to Scottish Commonwealth swimming champion Ross Murdoch has been traced.
Brian Fitzpatrick's note reached the swimmer despite being addressed simply to "Ross Murdoch, Commonwealth Champion, Balloch".
The 200m Breaststroke gold medal winner asked Twitter users to help him get back in touch with the youngster.
Ross Murdoch now plans to meet Brian and show him where he trains.
Brian's parents, who live in Dumbarton, got in touch after the appeal was retweeted more than 1,300 times.
The boy's mother, Claire Fitzpatrick, told BBC Radio Scotland's Good Morning Scotland programme that she thought her son was just "doodling" when he started on the letter.
She said: "We weren't sure that he would actually receive it and we thought he would get so much fan mail that we didn't give it much more thought after putting the stamp on it and posting it in the letter box.
"I didn't even know that he was actually planning to send it, I thought he was just doodling.
"He started school last week so he was practising and asking me, 'mum how do you spell I hope you like it', and 'how do you spell I'm your biggest fan', but I had no idea he was planning to send it at that point until he come up and asked for a stamp.
"I told him we had no idea of the address so we just thought, right, okay, we'll pop it in the post and see what happens."
The swimmer's first tweet about the letter, on 11 August, said: "Parents received some fan mail today. Great @RoyalMail for getting it to the proper destination! #Cute #GoodJob."
On Wednesday, he posted: "RT&help me find 5yo Brian who sent me this amazing letter! I'd love to meet him and show him around where I train :-)."
Mrs Fitzpatrick's husband noticed Ross Murdoch's appeal online and the family then tried to contact him via Twitter.
After contact was made, the Stirling University-based swimmer tweeted: "Tks so much for your help in #FindingBrian! Delighted 2 have found him & look forward 2 meeting him soon @UofSSwim HQ."
Mrs Fitzpatrick said Brian loved watching the 2014 Commonwealth Games.
'Over the moon'
She said: "He loves swimming and has been going to lessons for the last year or so.
"I think it really caught his imagination when we told him about the races and the fact that Scottish athletes were competing (at the Games)."
On his meeting with his swimming hero, she added: "He will be absolutely over the moon."
Ross Murdoch caused one of the biggest shocks of the Commonwealth Games when he won the 200m Breaststroke ahead of favourite, Olympic silver medallist and fellow Scot Michael Jamieson.
He followed up the triumph with a bronze medal in the 100m Breaststroke.