Swimming hero Ross Murdoch in plea to find young fan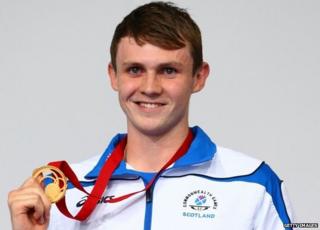 Scottish Commonwealth swimming champion Ross Murdoch has appealed for help in finding a boy who wrote to him after his triumph at the 2014 Glasgow Games.
He previously thanked Royal Mail on Twitter after the letter, addressed to Ross Murdoch, Commonwealth Champion, Balloch, was delivered to his parents.
The 200m Breaststroke gold medal winner has now Tweeted an appeal to trace the five-year-old boy, whose name is Brian.
Ross, 20, said he wanted to meet the young fan and show him where he trains.
The swimmer's first tweet about the letter, on 11 August, said: "Parents received some fan mail today. Great @RoyalMail for getting it to the proper destination! #Cute #GoodJob."
On Wednesday, he posted: "RT&help me find 5yo Brian who sent me this amazing letter! I'd love to meet him and show him around where I train :-)."
The swimmer caused one of the biggest shocks of the Games when he won the 200m Breaststroke ahead of favourite, Olympic silver medallist and fellow Scot Michael Jamieson.
He followed up the triumph with a bronze medal in the 100m Breaststroke.