Jim McColl's Clyde Blowers is Ferguson Shipbuilders preferred bidder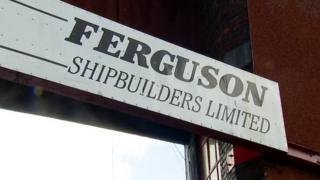 Jim McColl's Clyde Blowers Capital has been announced as the preferred bidder for the troubled Ferguson Shipbuilders.
The announcement from administrators KPMG is expected to lead to the sale of the Port Glasgow yard within 14 days.
Three bids had been made for Ferguson's business which went bust on 15 August with the loss of 70 jobs.
Clyde Blowers Capital was founded by its chairman Mr McColl, who is one of Scotland's wealthiest people with a fortune estimated to be about £1bn.
He said work would now begin top save the financially-stricken shipyard.
"We are pleased to have been selected as the preferred bidder for Fergusons which we believe has the potential to grow into a leading marine engineering business," Mr McColl said.
"Work is now underway to develop a plan to rebuild Fergusons. We look forward to working with all the key stakeholders in that rebuilding process."
Joint administrator Blair Nimmo of KPMG said the past few weeks had been a "challenging time" for everyone connected with the yard and he hoped progress on a sale could now be made.
"There are still ongoing discussions to be had with Clyde Blowers, however, we are now confident a sale can be achieved quickly."
'Positive step'
"This is a positive first step towards the potential resumption of ship building and ship repair activities at Port Glasgow."
Ferguson Shipbuilders went into administration following cash-flow difficulties and a lack of orders.
Last week, administrators gave a deadline of 17:00 on Thursday to submit bids for the shipyard.
Mr McColl's Clyde Blowers and McGill's Buses owners James and Sandy Easdale were among four initial bidders before the Easdales withdrew to back Mr McColl.
The identity of the two other remaining bids was not disclosed.
Originally formed in 1902, Ferguson Shipbuilder employed 77 staff at the time of the administration appointments. A skeleton staff has been retained to maintain the yard.