New life for Glasgow 2014 Commonwealth Games podiums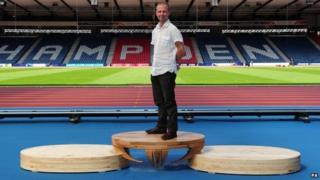 Some of the wooden podiums used at the 2014 Commonwealth Games in Glasgow are to be turned into scaled models and sold at auction.
The smaller podiums will be crafted by the team at Paul Hodgkiss Design which made the originals.
Glasgow 2014 has also announced that new homes are being found for the other podiums which are not being re-crafted.
Many have been given to sporting stadiums, clubs and centres around Scotland as part of the Games legacy.
Others have been donated to Glasgow Life and National Museums for Scotland and will be put on display at a future date.
Other elements of the medal ceremony have also been donated around the country, including the medal trays.
A set of ceremonial costumes which were worn by the male and female medal bearers has also been donated to Glasgow Life.
'Games first'
Glasgow 2014 chief executive David Grevemberg said a limited number of scaled model podiums would be available to buy.
"Apart from an athlete's medal, the most coveted and distinctive representation of the Games was the podium," he said.
"They were viewed by millions but exclusively reserved for those elite athletes who were top of their sport on that given day.
"Now, in another first for the Games, the podiums will be shared with all of those who were truly moved by the extraordinary sporting history created throughout Glasgow 2014."
The new scaled model podiums will be available to buy through the Glasgow 2014 Official Auction.