Glasgow to keep its Games 'Big G' at new city location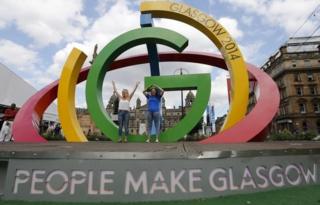 One of the iconic symbols of the 2014 Commonwealth Games in Glasgow is to become a permanent feature in the city.
The Big G in George Square will be dismantled on Monday before undergoing work to strengthen and weatherproof it.
It will then be moved to a long-term new home at another, as yet to be decided, location in the city.
Glasgow City Council also said it was looking into new homes for 25 statues of the Games mascot, Clyde, to ensure they remain on show to the public.
Council leader Gordon Matheson said: "Our city came alive during the Games and the Big G was the standout backdrop to the city's celebrations.
"It was featured by the media in nearly all of their Games reporting; it went viral on social media and it was the must-have selfie for residents, visitors and athletes. "
City landmark
He added: "Even now, more than a fortnight after the Games, people are still queuing up to have their picture taken with it."
The three-dimensional structure, which was designed to reflect the Games logo, is taller than a double-decker bus and measures 5.5m (18ft) in height by 10.2m (33.5ft) in circumference.
At four tonnes, it also weighs the equivalent of an African elephant.
Councillor Matheson added: "Although originally intended only for display during the Games, I am sure that people will want to enjoy this landmark for years to come.
"That's why I'm delighted to say it will be restored and treated so that it can be permanently displayed and enjoyed by Glaswegians and visitors to our city."
Once the structure is dismantled it will be strengthened and the metal will be treated to make it fit to be permanently displayed outdoors.
Responsibility for its long-term maintenance will be transferred to Glasgow Life, an arms-length council company responsible for culture and sport in the city.
The Big G was the centrepiece of a programme to dress Glasgow for the Games. Other measures included:
more than 1,600 lamppost banners
nearly 12km of bunting
more than 500,000 flower blooms
giant floral Clydes at Glasgow Green and Kelvingrove Art Gallery
a giant wooden Clyde in Queen's Park