Three bids on table for stricken Ferguson Shipyard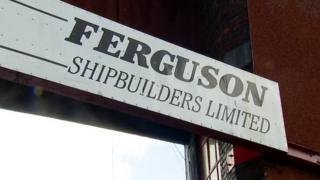 Administrators are considering three bids for Ferguson Shipbuilders in Port Glasgow, which went bust last week.
Clyde Blowers chairman Jim McColl and McGill's Buses owners James and Sandy Easdale were among four bidders before the Easdales withdrew to back McColl.
Each submission will now be assessed before one of the parties is given preferred bidder status.
KPMG said it was hopeful a sale could be achieved and work could restart at the yard in the short term.
Joint administrator Blair Nimmo said: "The level of interest and support shown for the future of Ferguson Shipbuilders provides us with the confidence that a sale could be achieved which will hopefully lead to work restarting in Port Glasgow in the short term.
"We would like to thank employees and bidders for their patience while we continue the important task of assessing the received bids."
Lack of orders
Ferguson Shipbuilders went bust last week with the loss of 70 jobs following cash-flow difficulties and a lack of orders.
Originally formed in 1902, the firm employed 77 staff at the time of the administration appointments. A skeleton staff has been retained to maintain the yard.
The Scottish government has stated that it was a priority to secure new investment for the yard, which is the last remaining commercial shipbuilder on the Clyde.
First Minister Alex Salmond visited the shipbuilder on Friday and said he was hopeful its future could be secured.
"I have great hopes that the work undertaken in this century-old yard will continue under new ownership and securing this remains an absolute and immediate priority of the Scottish government," he said.
'Shipyard vision'
"I am confident there will be work for a new owner of Fergusons to compete for and they will have the vision and commitment to invest in the shipyard and its workforce."
Mr Salmond said the Scottish government would work closely with any new owner to support them in building a sustainable business.
He added: "There is no doubt these will be anxious days while we await the outcome of the bids but there is also no doubt that the resolve of these skilled shipyard workers themselves will be crucial in a satisfactory outcome."
Mr McColl, whose personal wealth has been estimated to be about £1bn, told The Herald newspaper he wanted to take over the yard and rebuild its workforce.
He said the yard could potentially have a profitable future building ferries and carrying out work on vessels for the oil, gas and renewable energy sectors.
The entrepreneur told The Herald: "You are going to have to get into investing many millions immediately in the site to bring it up to modern-day standards.
"I have been out to look at the site. We know exactly what we have to do."
A spokesman for the Easdale brothers said both were backing Mr McColl's bid.
"We are informed that our bid is competitive and has reached the shortlist but we feel that Jim McColl is better equipped to take the yard forward.
"We said all along that we would step aside if somebody with an engineering pedigree and access to markets wanted to get involved."