Police Scotland set for £24m move to Dalmarnock, Glasgow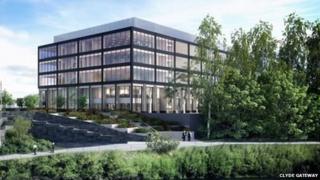 More than 1,000 police officers and civilian staff will move to a new £24m administrative headquarters in Glasgow's Dalmarnock area next year.
The five-storey Riverside East site will service Police Scotland operations across the west of Scotland.
Prior to the creation of a national force in 2013, Dalmarnock had been earmarked as the new headquarters for the former Strathclyde Police.
The new site effectively replaces the old Strathclyde HQ at Pitt Street.
The Riverside East building is scheduled for completion in November and due for occupancy by Police Scotland from the beginning of 2015.
The building will become home to 1,100 officers and civilian staff.
'Enhanced policing'
Deputy Chief Constable Neil Richardson said: "This is a fantastic opportunity for Police Scotland to relocate from its current Pitt Street location.
"This will unlock real benefits not only for the Police Authority and the Police Service but will be crucial to contributing to the regeneration of the Clyde Gateway area and will enable enhanced policing services to be delivered to local communities and beyond."
Sport Secretary Shona Robison said: "This welcome news is testament to our work with Clyde Gateway to regenerate Dalmarnock and the surrounding areas long after that the Games are over.
"It's fitting that Police Scotland, who played such an important role in delivering the greatest ever Games, will now have a permanent home in Riverside East bringing significant local economic benefits and showing other organisations that the area is a fantastic place to live and work."