Thieves in large jewellery haul in Glasgow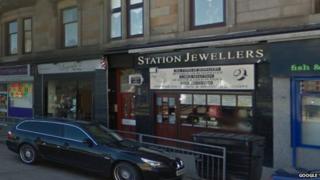 Thieves have stolen jewellery worth more than £100,000 from a store in the Partick area of Glasgow, police have said.
Station Jewellers in Merkland Street was broken into between 02:00 and 05:00.
Police said a quantity of diamonds, diamond rings, necklaces and watches with an estimated six-figure value were stolen.
Det Con David Hardie said police were still checking the shop's CCTV.
He said: "We know from the CCTV that there were at least two men - both white, wearing dark clothing and carrying plastic carrier bags - involved.
"They ran from the back of the shop and into the rear lane then into Dumbarton Road. It is possible that there was a third man waiting in a car for them but that has not been fully confirmed as yet."
Det Con Hardie added: "Flats overlook the shop and the rear lane so it is very possible that someone may have heard noises coming from the shop or maybe a car with its engine running for an excessive period of time.
"I would appeal to anyone who was in the Merkland Street area, where the taxi rank and train station is, who may have seen or heard anything suspicious, or indeed who may have information about the break-in, to contact police."