Terminally ill man denied free care again 'for applying too early'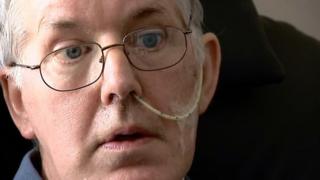 A terminally ill man who was told he wasn't close enough to death to qualify for free personal care has been refused support for a second time.
Andy Masterton, who is in the final stages of motor neurone disease, was told by East Ayrshire Council that he applied too early for the benefit.
The council says the benefit is only for people who are four weeks from death at the point they are referred.
Only over-65s are currently entitled to free help with washing and dressing.
Guidance from the Council of Scottish Local Authorities (Cosla) recommends that people under 65 should be given free personal care if they have a terminal illness.
Mr Masterton is bedridden but is still being refused the benefit.
'Worse position'
His wife Marjorie said the council had compounded its earlier benefit rejection with the latest ruling.
She said: "The position with East Ayrshire appears to be worse.
"They claim their 'four week' rule for free personal care only applies to people with this prognosis at the point of referral.
"I have invited their social work staff to see for themselves how ill Andy is, seeing as they do not seem keen to accept advice from medical professionals, but they prefer to hide behind council policy."
An email to the Mastertons from the council's acting head of service, Helen McGee, says personal care only applies "where at the point of referral for personal care and support, a person is in the end stages of their illness"
It adds: "At the time your husband was referred for and received personal care support (7th November 2013), which is now over 9 months, whilst he had a diagnosis of MND, which is a progressive illness, he was not requiring end-of-life care as defined in our policy."
'Deeply concerning'
The email says that the council will review its position on receipt of guidance from the Scottish government on the definition of a "terminal illness" and adds that this is a more "honest and transparent position" than many other councils.
Earlier this year the motor neurone disease charity, MND Scotland, criticised the variety of ways councils interpret Cosla's guidance.
The charity's chief executive Craig Stockton said: "It is deeply concerning that despite a clear statement from the health minister that people under 65 with a terminal illness, such as MND, should not be charged for personal care, East Ayrshire Council has chosen to stick with its policy and continue to pursue this family for payment.
"We urge East Ayrshire council to reconsider its position."
The health secretary Alex Neil pledged to use powers to tackle the problem if it was not sorted out voluntarily.
Correct charges
In a statement, East Ayrshire Council said it only waives charges when someone has requested end-of-life care.
"We have not acceded to this request as at the time of referral it was not for end-of-life care," said Eddie Fraser, director of East Ayrshire health and social care partnership.
"East Ayrshire council's charging framework aims to be fair to everyone receiving services and do this within the legislative framework.
"We do not, and never have applied charges when a person is referred for end-of-life care. In respect of Mr Masterton, our officers have applied charges correctly within our own local approved framework."
The statement added that the council could reduce charges if someone was in financial hardship, and would "make arrangements" to review the position given the family's change in circumstances.
Health Secretary Alex Neil said: "I have made it very clear local authorities should not charge terminally ill people for their care.
"We're working with Cosla to update guidance so all authorities apply a consistent and compassionate definition of terminal illness. If local authorities do not have this in place by April we will take the necessary legislative action to compel that consistency.
"In the meantime, Scottish government officials have contacted East Ayrshire Council to reinforce the position on charging and highlight Mr Masterton's case."