Thomas Main jailed for life for Francis McGraw murder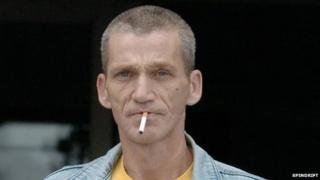 A man has been jailed for life for murdering the brother of the late Glasgow gangland figure Tam McGraw.
Thomas Main, 41, stabbed 55-year-old Francis McGraw more than 40 times at the victim's flat in Glasgow's Springboig area on 27 October 2013.
Main, who was out on bail at the time, claimed his friend was probably the victim of a gangland "hit".
At the High Court in Glasgow, Main was told he must serve at least 17 years and six months in prison.
Francis McGraw, who was also known by the alternative spelling of his name - McGrow, was the brother of gangland figure Tam "The Licencee" McGraw, who died from a suspected heart attack in 2007.
'Vicious attack'
Jailing Main for life, judge Lord Armstrong told him: "This was a vicious attack when your victim was lying on his back and unable to defend himself.
"There are no reasons which could possibly justify the taking of another's life as you did.
"Your release will be a matter for the parole board. I have no doubt that Francis McGrow's family have been deeply affected by this. Nothing I can do can mitigate their loss.
"Given the fact you used a large bladed weapon, inflicted over 40 penetrative wounds and this took place in the victim's own home the sentence will be one of 17 years and six months."
The court heard that Mr McGrow was murdered by a man he considered to be his friend.
The victim had allowed Main to stay in his home and use it as a bail address.
At some point Mr McGrow was stabbed in the back three times by Main, who described himself to police as the victim's best friend.
No motive
Then as Mr McGrow lay helpless on the floor of his living room, Main stabbed him a further 37 times, inflicting damage to his heart, lungs and major arteries.
No motive for the killing came out in court.
After carrying out the murder, Main disposed of the knife and tried to hide his jeans which had a fine spray of Mr McGrow's blood on them.
He then travelled into the city and made a call from a phone box in Gallowgate, Glasgow, saying that Mr McGrow had been murdered.
The court heard that when Main was told by his brother that police had found the knife he had thrown in the river and also the bloodstained jeans he put his head in his hands and admitted he was caught.
When interviewed by police Main tried to claim that Mr McGrow had been the target of an underworld hit because of who his brother was.
Main also told detectives: "He's my pal. I wouldn't murder anybody. I've not got the bottle in me to murder anyone."
Main added: "It was probably a hit on him. That's it, because of Tam his brother. You know his brother Tam McGraw "The Licensee."
The court heard that Main had a number of convictions for dishonesty and drugs offences, including a conviction for assault with intent to rob for which he received a 16 month sentence and assault and robbery for which he received a 26 month sentence.