Navy patrol ships deal worth £348m says MoD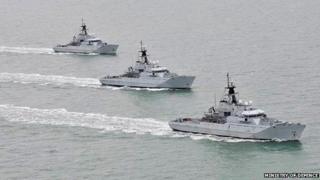 Details of a deal which will see three new Royal Navy offshore patrol vessels (OPVs) built on the Clyde have been confirmed by the Ministry of Defence.
Plans for the vessels to be built at BAE Systems' Govan and Scotstoun yards were announced last year.
The MoD has now said the deal is worth £348m and will help safeguard more than 800 jobs.
The Scottish government said independence offered the best future for the shipbuilding industry.
The new patrol vessels will be used to support counter-terrorism, counter-piracy and anti-smuggling operations in UK waters.
Announcing the contract, UK Defence Secretary Michael Fallon said: "UK warships are only built in UK shipyards. This multi-million pound contract shows our commitment to investing in new ships for the Royal Navy and maintaining in the UK the expertise needed to build the warships of the future.
"It will benefit the dedicated workers of the Clyde, their families and the local economy in Glasgow.
"This sort of investment by the UK Government is vital for the sustainment of shipbuilding in the city and the hundreds of specialist manufacturing and engineering roles that play an important role in providing war fighting capability for the Royal Navy."
'Value for money'
The OPVs will feature a redesigned flight deck to operate the latest Merlin helicopters, as well as increased storage and accommodation facilities.
Plans to build them on the Clyde were announced last November when BAE Systems confirmed it was ending shipbuilding altogether in Portsmouth and cutting more than 800 jobs at its yards in Govan, Scotstoun, Rosyth in Fife and at the firm's Filton office, near Bristol.
A spokesman for the Scottish government said: "All work for the Clyde shipyards is very welcome, but this Westminster re-announcement just weeks before the referendum doesn't change the fact that independence offers the best future for the industry.
"With the proposed closure of the naval shipbuilding yard at Portsmouth, Scottish yards will soon be the only place on these shores where work on vessels like the Type 26 can realistically be done.
"If Westminster is willing to work with Australia on design work for the Type 26 ships - and to place an order worth almost half a billion pounds to South Korea for military tankers - it is even more straightforward to build naval vessels in the Clyde yards, which offers the best quality and value for money."
The first OPV is expected to be handed over to the Royal Navy in 2017.