Glasgow Israeli flag councillor David Meikle urged to resign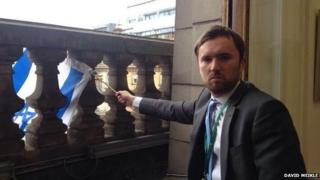 Almost 2,000 people have signed a petition urging a Glasgow councillor who flew the Israeli flag to resign.
Conservative councillor David Meikle waved the flag as civic leaders raised the Palestinian flag over Glasgow's city chambers on Friday.
Jewish communities reacted angrily to the flying of the Palestinian flag saying it would stir up tensions.
Mr Meikle tweeted a picture of himself with the Israeli flag but his Twitter account has since been deleted.
Glasgow City Council said the flying of the Palestinian flag was to show solidarity with those affected by the conflict in Gaza.
Speaking on Friday, Mr Meikle said the decision to fly the flag was taken without consulting council members and would do nothing to stop suffering on both sides of the conflict.
An online petition set up in response to the councillor, who represents the ward of Pollokshields, waving the Israeli flag described his actions as "very insensitive to the majority of his constituents and Glaswegians at large".
The petition calls for his immediate resignation.
Glasgow is twinned with the city of Bethlehem, which is under the Palestinian Authority not in the Gaza strip.
West Dunbartonshire Council has previously flown the Palestinian flag over council offices and Fife Council announced similar plans.