Thousands to attend Piping Live festival in Glasgow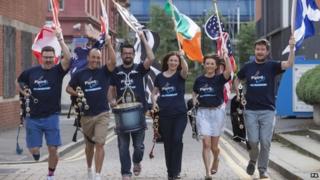 About 8,000 pipers and drummers will be performing at the International Piping Festival in Glasgow this week.
Piping Live features more than 150 events over seven days, including performances and competitions.
Musicians from as far afield as New Zealand, Australia, the US and Canada are among the 26 countries taking part, as well as pipers from Scotland, France and Spain.
The event culminates in the World Pipe Band Championships.
About 50,000 spectators are expected to attend.
The festival hub is at the National Piping Centre but this year there will also be an event space in Candleriggs in Glasgow's Merchant City.
Performances will take place there and there will also be a street food festival.
Festival director Roddy MacLeod said: "We are delighted to have Candleriggs for 2014, it is a great space in a central location.
"It's important for us to bring performances into the city centre as it gives Glaswegians and visitors a taste of the festival.
"Not only does it give them a chance to see the best Highland bagpipe bands from around the world but also piping disciplines which can take them by surprise and sound very different from the expected."
The festival runs from 11 to 17 August.