Carstairs care home given improvement notice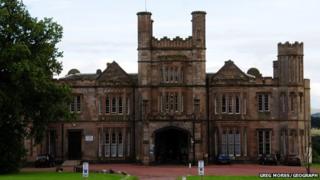 Concerns about standards - including nutritional provision - have led to a care home being issued with an improvement notice.
New Monteith House in Carstairs has been told it must address issues identified at a recent inspection.
The Care Inspectorate warned it could be de-registered if improvements were not made.
The full 2014 report on the South Lanarkshire home will be published in the coming weeks.
New Monteith House looks after up to 25 residents.
A Care Inspectorate spokesman said: "There were four areas of serious concern raised by our inspectors and we have informed the services of the action it must take to ensure it meets the standards we require.
"We will be monitoring this service closely and will be inspecting again soon.
"If we do not see evidence of significant improvement we will not hesitate to take further action.
"Everyone in Scotland has the right to safe, compassionate, good quality care which meets their needs and respects their rights."