Palestinian flag raised over Glasgow city chambers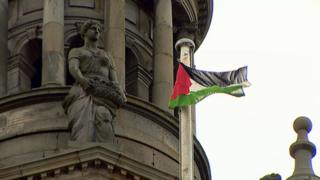 The Palestinian flag has been raised over Glasgow's city chambers in support of the people of Gaza.
About 70 people gathered, some to protest, others to support the flag being flown in George Square.
Lord Provost Sadie Docherty has described it as a symbol of solidarity with Palestinians affected by the conflict.
But a Jewish group has condemned it as "gesture politics" that would do nothing to alleviate suffering.
Almost 1,900 Palestinians, mostly civilians, and 66 Israelis have been killed since the launch of Israel's Operation Protective Edge at the beginning of July.
Glasgow is twinned with the city of Bethlehem, which is under the Palestinian Authority not in the Gaza strip.
In a letter to the mayor of Bethlehem, Councillor Docherty said: "Glasgow is home to many friends of Palestine and this is a deeply distressing time for them.
"They represent a variety of ethnicities, political persuasions, faiths and none. However, they are united by a common desire to support the Palestinian people."
But the Glasgow Jewish Representative Council has said it feels "angered and hurt" by the council's decision to raise the flag.
The body's president Paul Morron said it was more likely to foster division than reconciliation.
West Dunbartonshire Council flew the flag over council offices last week and Fife Council has announced similar plans.