Gangland enforcer's son Steven Ross is jailed for knife murder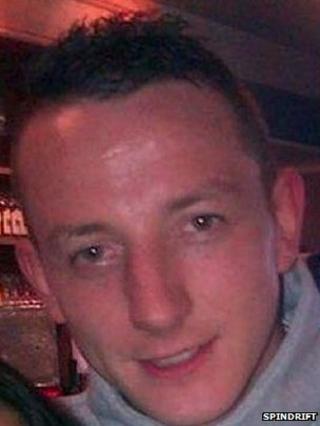 The son of a murdered gangland enforcer has been jailed for life and ordered to serve at least 20 years for killing a friend.
Steven Ross, 27, stabbed 26-year-old Sean Humphrey to death at a flat in Shettleston, Glasgow, last October.
The High Court in Glasgow heard Ross had been released early from a nine-year sentence for attempted murder just two months before the killing.
Judge John Morris QC told Ross: "You are a very dangerous young man."
Ross is the son of Gordon Ross, who was notorious gangster Tam "The Licensee" McGraw's right-hand man.
Ross snr was murdered after being lured from a Shettleston pub 12 years ago.
Steven Ross stabbed Mr Humphrey 12 times with a fluorescent green knife with an eight-inch blade.
The fatal wound to the chest cut through a major artery and vein and Mr Humphrey bled to death.
Ross, who was injured during the knife attack, left a trail of blood to a park where he got in a taxi.
He also left a partial palm print on the knife and on the living room door.
Advocate depute Tim Niven-Smith said: "This young murderer has a propensity to carry a knife."
'Serious violence'
Mr Niven-Smith told the court that Ross had convictions for knife possession in 2004, 2006 and 2007.
The prosecutor added: "Mr Ross also has a propensity for serious violence and in August 2006 he was convicted of attempted murder and given nine years.
"He was released from custody on 26 August 2013 and had only been at liberty for two months when he murdered Sean Humphrey."
The court heard that Ross fled to a caravan park in Ayr with his girlfriend after the murder, which featured on BBC's Crimewatch programme.
He claimed he was there for a romantic break.
The jury took just over an hour to convict him of murder by a majority vote.
Co-accused Scott Keogh, 24, was cleared of the murder during the trial.