Glasgow 2014: Statue of Games mascot Clyde is stolen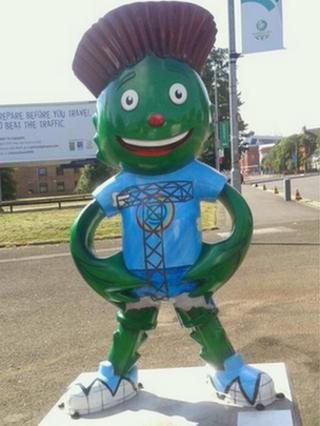 A statue of Commonwealth Games mascot Clyde has been stolen and others vandalised following the end of Glasgow 2014.
Glasgow City Council is now removing Clyde figures from across the city earlier than planned to protect them.
The purple-haired thistle character appeared at 25 locations in the run-up to the Games as part of Clyde's Trail.
The missing statue, which was sited on Edmiston Drive, Govan, had been popular with Games visitors.
A council spokesman said: "Clyde has become synonymous with Glasgow's Games and the trail has proved massively popular, with tens of thousands of fans queuing to have their picture taken beside Clyde across the city.
"In recent days, there have been incidents of vandalism to some of the Clydes along the trail.
"It was our intention for the Clydes to remain in their current locations and for the trail to be enjoyed until the end of the school holidays.
"However, to ensure the safety of the remaining Clydes, we have decided to begin removing them from today."
Discussions are continuing on the fate of the figures, but the council said the plan remains for them to stay on show in the city as a lasting legacy of the Games.
Clyde, designed by 14-year-old Beth Gilmour, proved a big hit with visitors to Glasgow 2014.
Soft toys of the character were the most popular merchandise items over the course of the Games, with more than 50,000 purchased since July.
High demand led to the 15cm (6in) and 25cm (10in) versions temporarily selling out.