Glasgow tourism is 'Games winner'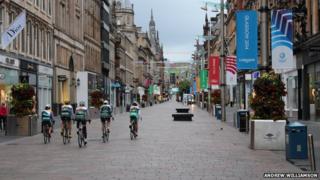 Glasgow's tourism industry will be one of the big winners of the Commonwealth Games, according to VisitScotland.
The tourism body said hotels and restaurants had reported some of their busiest days on record in recent days.
It said many businesses expected the "Games effect" to bring more tourists to the city.
A recent survey suggested up to 100,000 visitors would stay on after the Games to see more of Scotland.
Mike Cantlay, chairman of VisitScotland, said: "Glasgow has delivered one of the best-ever Commonwealth Games.
"But while the sport draws to an end, the party is set to continue with some visitors extending their stay to enjoy the many amazing things that Glasgow, Edinburgh and the rest of the country has to offer.
"Over the past 10 days, there has been an incredible buzz in Glasgow - the city is packed, the venues are exceptional and the hotels, restaurants, bars and cafes are enjoying one of their busiest-ever summers.
"But it's the people that will help ensure Glasgow benefits long after the Games end.
"It is the people of Glasgow that visitors, athletes and the media are talking about, and it will be their warmth, passion and enthusiasm that is remembered."
Ryan James, chairman of Glasgow Restaurant Association, said many city restaurants had their busiest day on record last Saturday.
He said: "Glasgow has proved to be a revelation to so many visitors who have come here for the Games.
"Visitors not just from far afield either - we've had people from just outside Glasgow or from other cities, who have been surprised and delighted by how fantastic and vibrant Glasgow is.
"This is Glasgow's time to shine; it's a proud moment for the city and for all the partners who have worked so hard to achieve this.
City Legacy, a consortium of companies that built the Athletes' Village, has reported a big rise in the number of people wanting to buy homes at the site.
In the past week alone, 86 people registered an interest, taking the total to more than 2,000.
To date, 239 of 242 homes released so far have been sold.