Commonwealth Games fuel Scottish produce sales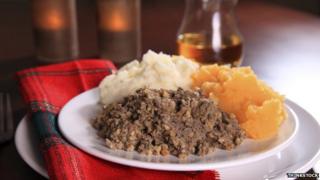 Supermarket Tesco said demand for Scottish produce has increased sharply during the Commonwealth Games.
Early sales figures indicated that sales across the UK of haggis and black or white pudding were up by 80%.
Demand for Scottish bottled water was up 50% and malt whisky saw an increase of 30%.
Waitrose has also reported an increase in demand for Scottish food and drink, with higher sales of teacakes and Scottish soft drinks.
Tesco head of local sourcing Sarah Mackie said: "The Commonwealth Games has put a world spotlight on Scotland and created a natural curiosity for shoppers around the UK to try out Scottish food and drink.
"We expected to see demand grow in our Scottish stores but customers right across Britain are buying Scottish products."
She added: "Haggis has been the real winner so far during the games and it may now become more popular south of the border as a result."
Waitrose said sales of Tunnock's teacakes, which featured in the opening ceremony, increased by 62% in the following 24 hours.
It also reported that demand for Irn Bru has been 15% higher since the Games began.