Glasgow 2014: Guards axed over Usain Bolt 'selfie'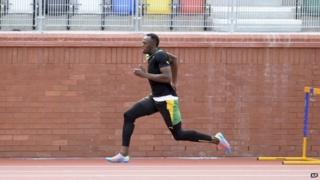 Three security guards have been removed from duties at the Commonwealth Games after reports they took "selfie" photographs with sprinter Usain Bolt.
The guards are alleged to have approached the athlete as he trained beside Hampden Park earlier this week.
It is understood they were removed from their roles at Glasgow 2014's training facilities at Lesser Hampden after breaching conditions of employment.
They are still employed by the firm but are no longer working at Glasgow 2014.