ICL defeats bid for damages over Glasgow factory blast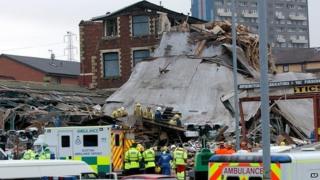 The owners of a plastics factory which exploded in Glasgow killing nine people have blocked a compensation claim by a neighbouring firm damaged in the blast.
ICL Plastics Ltd opposed the claim by decorators merchant David T Morrison on the grounds it was lodged outside the statutory five-year limit.
ICL appealed to the Supreme Court in London after judges at the Court of Session upheld Morrison's case.
Supreme Court judges ruled in ICL's favour by a majority of three to two.
The explosion at ICL Plastics building on 11 May 2004 killed nine people and resulted in 33 people being injured.
Extensive damage was caused to neighbouring properties, including a shop owned by Morrison.
Pipe fault
In 2007, ICL was fined a total of £400,000 for breaching health and safety laws after it was found that a build up of gas from a fractured pipe had caused the explosion.
Morrison launched its claim for damages at the Court of Session on 13 August 2009 - more than five years after the tragedy.
ICL successfully defended the claim, citing section 6(1) of the Prescription and Limitation (Scotland) 1973 Act, that it did not have to meet claims made more than five years after the explosion.
Morrison then successfully appealed to the Inner House of the Court of Session, relying on section 11(3) of the Act.
This postpones the claim date where the "the creditor was not aware, and could not with reasonable diligence have been aware, that loss, injury or damage caused as aforesaid had occurred" until a later date.
Morrison argued they could not have known that the damage to their premises was caused by the negligence of ICL until long after the explosion had occurred.
They had to wait for the site to be released by the authorities before they could start any investigations into the cause of the explosion.
ICL then appealed to the Supreme Court where Lord Neuberger, Lord Sumption and Lord Reed agree that the appeal should be allowed.
Lord Hodge and Lord Toulson dissented and would not have allowed the appeal.