Appeal over python found in lay-by on A721 near Carstairs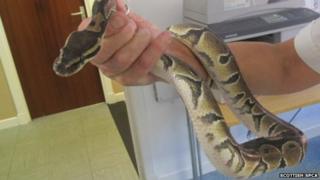 An animal welfare charity is trying to trace the owner of a snake that was found near a road in South Lanarkshire.
The Royal Python was spotted by a cyclist in a lay-by on the A721 near Carstairs on Thursday.
The non-venomous reptile, which is native to Africa, is now in the care of the Scottish SPCA at its animal rescue and re-homing centre in Hamilton.
The snake, named Roy after the cyclist who found him, will be re-homed if he can not be returned to his owner.
Animal rescue officer Gavin Law said: "He may be a stray but I think it's more likely he was abandoned as there aren't many houses nearby.
"It's possible someone pulled into the lay-by, let him out and then drove away.
"When I rescued Roy he was very cold and lifeless but he soon warmed up due to the heat inside my van and began moving again.
Mr Law added: "We'd urge anyone who knows who may have owned Roy to contact us. If we're unable to return Roy home we'll look after him until we can find him an experienced new owner."