Lynda Spence killers Colin Coates and Philip Wade lose appeals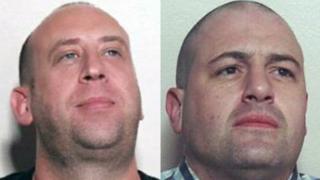 Two men jailed for life for abducting, torturing and murdering Lynda Spence have lost an appeal against their convictions and minimum jail terms.
Colin Coates and Philip Wade, both 43, were jailed for a minimum of 33 years and 30 years respectively following an 11-week trial in 2013.
Their rejected appeals focused on use of alleged inadmissible evidence and late disclosure of Crown evidence.
Ms Spence, 27, was last seen in Glasgow in 2011. Her body has never been found.
Coates and Wade's trial at the High Court in Glasgow heard that they forced Ms Spence into a car on Broomhill Path, Glasgow, in April 2011 before she was driven to a flat in West Kilbride in Ayrshire.
She was taped to a chair and subjected to violence during which she was burned with an iron, struck with a golf club and had her thumb cut off.
She was then murdered and her body disposed of.
During an earlier hearing at the Appeal Court in Glasgow, QCs for the pair challenged their convictions claiming that trial judge Lord Pentland had erred in refusing a defence objection to a line of evidence that Wade had spoken to others about the alleged killing of a male.
They also contended that the Crown had failed to give adequate disclosure of Ms Spence's recruitment as an informer or covert human intelligence source (CHIS) by the Scottish Crime and Drug Enforcement Agency a month before she disappeared.
The appeal judges, the Lord Justice General, Lord Gill, sitting with Lord Menzies and Lord Turnbull, heard that Mi Spence ran a mortgage and property rental and sale business in Glasgow, but her business affairs were chaotic and she was in debt.
'Strong motive'
Lord Gill said: "She had become involved in fraudulent activity for which she was being investigated by the police.
"She had a girlfriend, Aliona Codreanu, with whom she was living at the time of her disappearance. There was evidence that Ms Codreanu was a prostitute who was associated with an an Albanian criminal called Sokal Zefaj," said the senior judge.
Following Ms Spence's recruitment as a CHIS, she was to provide intelligence on Zefaj and other suspected criminals.
Lord Gill said Coates and Wade had "a strong motive" to commit the crimes they were convicted of.
Coates had given Ms Spence a number of loans and by the end of 2010 or early in 2011 believed that she owed him £85,000.
He invested all his money with her and was told of a project at Stansted airport.
Lord Gill said: "It transpired that the Stansted airport scheme was an elaborate device invented by the deceased to keep the second appellant (Coates) at bay when she was unable to repay his loans."
Coates became extremely angry with Ms Spence as did his close acquaintance, Wade.
Two former co-accused, David Parker and Paul Smith, who were both jailed for 11 years for assaulting Ms Spence, gave damning evidence against Coates and Wade and gave graphic descriptions of the torture of the financial adviser.
'Startling' evidence
Lord Gill said the trial judge was entitled to refuse the defence objection over the admissibility of evidence over the purported murder of a man from Liverpool.
"I have no reason to think that his refusal was unreasonable or perverse. The objection could reasonably have been raised before the trial," he said.
The Lord Justice General said the evidence was "quite startling".
He added: "It should have been apparent to the defence that the significance of it, in the context of the other evidence, was that it could be inferred that at the relevant time the appellants were speaking of a fictitious murder but were anxious to dispose of the body."
The senior judge said: "In my opinion all that the disclosure showed was that people other than the appellants had reason to harm the deceased."
"If the defence considered that the deceased's status as a CHIS was important, they could have asked for a postponement to the trial. They did not," he said.
Lord Gill said the grounds of appeal advanced by the pair had to be seen in the context "of the overwhelming evidence in the case".
"In this powerful case the most telling evidence was that of the co-accused. It destroyed the idea, put forward by the defence, that the deceased was alive and living abroad," he said.
Wade's counsel, Gary Allan QC, had argued that the 30-year term imposed on him was excessive and was more than that imposed on the Lockerbie bomber Abdelbaset Al Megrahi, who received a 27-year minimum term for the mass murder.
But the judges at the Court of Criminal Appeal held that there was no miscarriage of justice.