Andrew McKinlay jailed for murdering Josephine Steele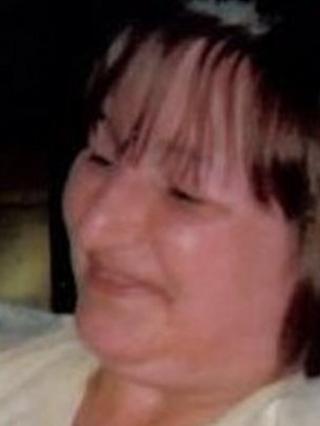 A man who stabbed his partner to death then stayed with her body for five days has been jailed for life.
Andrew McKinlay, 39, admitted murdering 45-year-old Josephine Steel at a flat in Glasgow in October last year.
He then bought air freshener and bleach to cover the smell from her decomposing body before moving to a friend's flat. Ms Steele's body was found weeks later.
At the High Court in Edinburgh, McKinlay was told he must serve a minimum of 15 years in prison.
Jailing him, temporary judge Kenneth Maciver told McKinlay: "This was a brutal killing. Although it was a short relationship, she loved and trusted you and she was entitled to feel safe and secure in her own home.
"We do not know what happened, but it is clear that you attacked her in a drug and drink fuelled rage. The attack with a weapon was relentless.
"There were five penetrative stab wounds, several other cuts and evidence of defensive wounds. It was a sustained attack. There is no escaping these facts, just as there was no escape for her from your attack."
'Callous and shameful'
Judge Maciver added: "Your actions and conduct after killing Josephine Steele were callous and shameful, because you went on as if nothing had happened.
"You moved her body into the bathroom and told lies to friends and family. You took actions to clear up the flat and to attempt to disguise smells before eventually moving out and leaving her".
The judge told McKinlay he would have faced a minimum of 17 years in jail if he had not pleaded guilty.
An earlier hearing at the High Court in Glasgow heard that McKinlay stabbed Ms Steele on 9 or 10 October last year. The fatal wound severed the jugular vein and carotid artery.
He then stayed in flat in Dobbies Loan for five days.
On the last day he went to a nearby shop to inquire about the winning lottery numbers. He also bought an Airwick air freshener and a bottle of bleach.
Although McKinlay moved out to a nearby flat and stayed with a friend, it was not until 30 October that Ms Steele was reported missing when she failed to attend a medical appointment.
Police were contacted and when they gained access to the flat they found her body on the bathroom floor.