Glasgow Science Centre tower open after smoking cable alert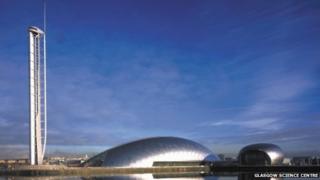 Glasgow Science Centre tower has opened as normal after fire crews were called on Tuesday to tackle a smoking cable.
A member of the public spotted smoke coming from the lift motor room after the tower had closed on Tuesday night.
The crew of HMS Bangor, which is moored nearby, extinguished the smoke before the fire service arrived at 20:00.
The science centre said the short-circuited cable had been repaired overnight and the tower was operating as normal.
A spokeswoman for the centre said: "The Glasgow tower has resumed operation today as normal, following an incident yesterday evening.
'No risk'
"Alerted by a member of the public, Glasgow Science Centre staff dealt with a minor incident, which was attended by Fire and Rescue Scotland.
"We are also grateful to the crew of HMS Bangor, which is currently berthed at Pacific Quay, for their support."
The spokeswoman added: "This incident happened after the tower had closed for the day, and so the public faced no risk.
"Our engineers have been on site and carried out a thorough inspection and the problem was traced to a short-circuited cable.
"Engineers repaired the fault overnight and the tower is fully operational today."
A fire service spokesman said: "Crew members from HMS Bangor saw a cable that feeds the lift motor room overheating, so they came over with a couple of extinguishers and put out an overheating cable in the lift motor room.
'No damage'
"Scottish Fire and Rescue Service attended and checked that the fire was extinguished and there was no damage."
The £5m tower opened on Saturday, after being closed for almost four years because of technical problems with its rotation mechanism.
The tower, powered by four manually controlled motors, is said to be the only structure on Earth capable of rotating 360 degrees into the prevailing wind.
It holds the Guinness World Record for the tallest, fully rotating free-standing structure in the world and is also the tallest free-standing structure in Scotland.
The refurbishment of the tower has added a new interactive visitor experience area at its base and new technology in the viewing cabin.
Visitors to the viewing cabin are able to take in 20-mile views of Glasgow and its surroundings on a clear day.
The tower initially closed four years ago after it was found the glass elevators were too heavy, causing the mechanism to overheat, while one of the ball bearings which took the weight of the whole structure had sunk.
The science centre planned to keep the tower open during its summer season before closing on 2 November for the winter.