Glasgow Science Centre tower reopens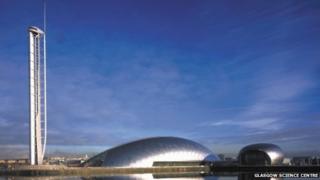 Glasgow Science Centre tower has reopened to the public after an almost four-year hiatus.
The problem-plagued £10m structure has been closed for more than 80% of its life since opening in 2001.
A £1.8m revamp has seen repairs completed to the thrust bearing and replacement lifts installed.
Journalists were given access to the 127m (416ft) rotating tower on Friday ahead of public visits, costing £4.95, to the 105-metre high viewing cabin.
Visitor experience
The Science Centre plans to keep the tower open during its summer season before closing on 2 November for the winter.
The tower, powered by four manually controlled motors, is said to be the only structure on Earth capable of rotating 360 degrees into the prevailing wind.
It holds the Guinness World Record for the tallest, fully rotating free-standing structure in the world and is also the tallest free-standing structure in Scotland.
The refurbishment of the tower has added a new interactive visitor experience area at its base and new technology in the viewing cabin.
Visitors to the viewing cabin will be able to take in 20-mile views of Glasgow and its surroundings on a clear day.
The tower initially closed four years ago after it was found the glass elevators were too heavy, causing the mechanism to overheat, while one of the ball bearings which took the weight of the whole structure had sunk.
These have now been replaced with much lighter lift cars, and a new safety feature which causes the lifts to "cut out" and return to the ground if the wind goes above 20mph should hopefully mean that no-one will get stuck up the tower again.
The ball bearings, which were previously described as "not fit for purpose", have also been replaced.