Car theft dog Murphy found tied to pole in Bishopbriggs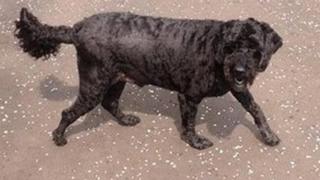 A dog that was inside a car which was stolen in East Dunbartonshire has been found tied to a pole.
The black Cockapoo, named Murphy, was found at Auchinairn roundabout in Bishopbriggs, at 01:00.
The dog is safe and well and his owner is said to be "delighted".
Murphy was in a dark grey Volkswagen Scirroco car that was stolen from outside the Virgin Active health club on Strathblane Road, Bearsden, between 16:50 and 17:10 on Tuesday.
The car, registration number SL14 YPR, is still missing.
Suspect descriptions
The car keys were stolen from a locker inside the health club.
Murphy was spotted tied to the pole by a member of the public who alerted police. Officers identified the dog and returned him to his owner.
Police believe two men were involved and have appealed for information.
The first suspect was described as 30 to 39 years old, of slim build, with dark brown hair and a sallow complexion.
At the time of the theft, he is believed to have been wearing a blue T-shirt and shorts.
The second suspect was described as having a slim build and sallow complexion. At the time of the theft, he was wearing a purple and white striped polo top and red shorts.