DTH van der Merwe assault conviction overturned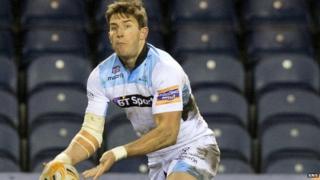 A professional rugby player found guilty of punching a man who had spat in his face has been granted an absolute discharge.
Daniel van der Merwe, 28, had appealed against a fine of £700 after a sheriff convicted him of assaulting John Ross.
Three judges at the Justiciary Appeal Court in Edinburgh overturned the decision, so the Glasgow Warriors wing will be left with no conviction.
They ruled that he had been provoked into retaliating to an assault.
Lord Eassie, who heard the appeal with Lord Drummond Young and Sheriff Principal Brian Lockhart, said that Mr Ross had abused the Canada international verbally and then spat in his face in October 2011, to which Mr van der Merwe had responded instantly with a single punch.
The senior judge said: "In our view, the act of spitting constituted an assault. In our view it did constitute a significant provocative act."
Celebrating engagement
Lord Eassie said they had come to the view that the sheriff had erred in not finding provocation to be made out in the circumstances of the case.
"We have come to the view that the appropriate course to adopt is to grant an absolute discharge," he said.
Mr van der Merwe, known as DTH, was originally convicted of assaulting quantity surveyor Mr Ross following a trial at the city's sheriff court by Sheriff Alan Miller.
The rugby player, who signed for Warriors in 2009, was in Glasgow's Oran Mor nightspot after celebrating his engagement to his partner, Gillian.
Mr Ross was also at the pub with friends and a drink was spilled, although a replacement was bought. He then swore at Mr van der Merwe before spitting on the player.
The rugby player then punched him on the face.
Appropriate circumstances
Following Mr van der Merwe's conviction for assault, lawyers acting for the player lodged an appeal.
His counsel, Moira MacKenzie, said: "The appeal seeks to challenge the decision of the sheriff, firstly, on holding on the evidence led that provocation was not made out."
She said that in this case it was the complainer who acted aggressively towards the appellant. She said the rugby player was abused then assaulted by spitting.
The defence counsel said: "His act was an immediate and reasonable response - one which the ordinary man would consider appropriate in the circumstances."
Miss MacKenzie submitted that the sheriff had erred in failing to hold that the case fell into the exceptional category where an absolute discharge was appropriate.
She also said that the conviction could stop her client from pursuing a career in the fire service in Canada, for which he had already spent about $20,000 in preparation.
Mr van der Merwe missed the second half of the Pro12 rugby season after undergoing surgery to a shoulder injury in February.