Glasgow 2014: Diarrhoea and vomiting at Athletes' Village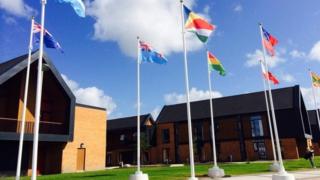 An outbreak of diarrhoea and vomiting at the Commonwealth Games Athletes' Village is thought to be the highly-contagious norovirus.
NHS Greater Glasgow and Clyde said 12 workers were "experiencing mild gastrointestinal symptoms".
All 12 have been sent home and told to remain there until they have been clear of symptoms for 48 hours.
Games organiser Glasgow 2014 said it was investigating the cause of the outbreak at the site in Dalmarnock.
The first representatives of Team Scotland were officially welcomed to the village on Wednesday ahead of the Games, which will be held in Glasgow from 23 July to 3 August.
The village sits on the doorstep of Celtic Park, the venue for the opening ceremony of the Games, and alongside the new Emirates Arena and Sir Chris Hoy Velodrome.
Dr Gillian Penrice, consultant in public health medicine for NHS Greater Glasgow and Clyde, said: "Norovirus is the most common stomach bug in the UK and it is common to see the virus in the community. It's usually mild and generally lasts for 24 hours.
Monitoring cases
"The symptoms being experienced by these individuals are mild and none of the 12 are giving any cause for concern as a result of the virus. We are continuing to monitor the situation closely."
A Glasgow 2014 spokesman said: "There have been 12 reports from workforce of diarrhoea and vomiting which we are investigating.
"Village residents and workforce have been informed and issued with health information.
"There have been no reports from athletes or team officials and the village is open and operating as normal."
---
Analysis: Eleanor Bradford, BBC Scotland health correspondent
Norovirus, which is also known as winter vomiting, gastric flu and norwalk-like virus, has been described as the "perfect pathogen".
It can survive in all kinds of environments and is highly infectious.
The symptoms of infection - diarrhoea and vomiting - release tiny droplets into the air which settle on all exposed surfaces: door handles, worktops, beds. Half of those exposed to these micro-aerosols will also become sick (a "50% attack rate".)
It is particularly problematic where you have a lot of people in an enclosed environments, such as cruise ships, hospitals and - you might speculate - an athletes village.
Although unpleasant, it normally has no long-term effects on healthy adults, but you wouldn't want to have it and then try to win a gold medal.
The only way to control norovirus is with highly restrictive infection control procedures. Contaminated areas will need to be deep cleaned or sealed off. People need to be scrupulous with personal hygiene, and anyone suffering from symptoms needs to be isolated.