James Ainsworth murder bid charge against Gareth Polland dropped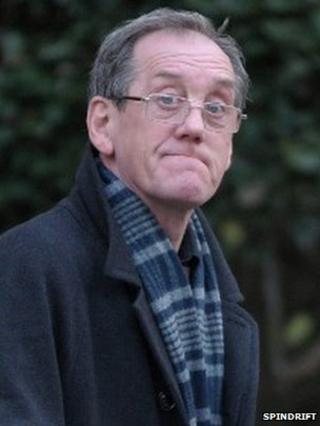 The son of a former policeman who was jailed for sexually abusing four girls and two boys has had a charge of attempting to murder his dad dropped.
Gareth Polland, 32, had been charged over an alleged attack on 62-year-old James Ainsworth outside the High Court in Glasgow in August.
Mr Polland is of Telford, Shropshire.
Ainsworth was jailed for 11 years after he admitted seven charges of sexual abuse and one of rape in Ayrshire and Dumfriesshire between 1965 and 1990.
His trial was halted after he was rushed to hospital following an incident during a lunch-time break.
Ainsorth later recovered and pleaded guilty after the trial resumed.
Mr Polland - an Iraq war veteran who was an Olympic torch bearer in 2012 - had been due to appear at the High Court in Glasgow next week in connection with the alleged assault.
But prosecutors revealed there would be no further action taken against the father-of-three.
A Crown Office spokesman said: "Gareth Polland appeared on petition at Glasgow Sheriff Court on a charge of attempted murder.
"It is the duty of the Crown to keep cases under review to ensure that the decision remains appropriate in the public interest.
"Where there is a change of circumstances or where the prosecutor receives new information about the accused or victim which is relevant to the assessment of public interest, it will be necessary to consider whether the prosecution should continue."
Trial halted
The spokesman added: "After a full and careful consideration, Crown Counsel has decided that there should be no further proceedings at this time."
Mr Polland's lawyer Liam O'Donnell also confirmed the case had been dropped but declined to comment further.
Ainsworth had originally stood trial in August charged with offences dating back to the 1960s.
The case was halted after several days of evidence when he was allegedly attacked just yards from the front door of the high court. Mr Polland was later charged.
Ainsworth, however, was fit enough to face charges again in March - but this time admitted his guilt on the eve of his trial.
The court heard how he had told one victim: "No-one will believe you. I am a police officer and something bad will happen to your mum."